HDH Sustainability is constantly at work!
We have exceeded the UC San Diego goal of reducing potable water consumption by 20% by 2020 AND 36% by 2025, and we construct all new buildings to at least LEED Silver standard.
Working to meet the UC-wide commitment to reduce per capita waste by 25% from 2015/16 levels by 2025, and 50% by 2030.
Working to meet the UC-wide goal of net zero greenhouse gas emissions from building and fleet vehicles by 2025 - HDH actively practices energy conservation and has fuel-efficient hybrids and EVs in our fleet.
What We Do
EcoNaut Waste Audits
The EcoNauts perform waste audits at various locations on campus to quantify what is being thrown away and to identify areas of improvement for diverting food waste and recyclable items.
November 2019: Two hours of trash was gathered and sorted from the 64 Degrees' front-of-house trash bins (46 pounds). The composition of this trash by weight was found to be: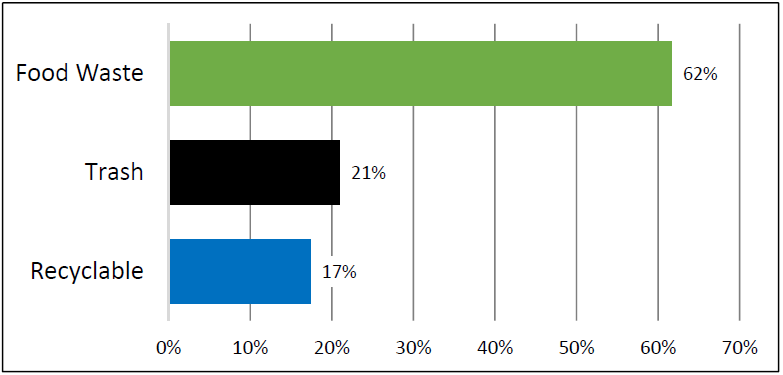 In addition to 28 lbs of food waste, many plastic to-go containers and other rigid plastics were found. Please remember to compost and recycle!
After sorting, this waste was properly disposed of, and the data is used to continually improve our sustainability programs.
EcoNaut Vlog Series
The EcoNauts post vlogs highlighting sustainability tips, programs and key partnerships on campus. Check them out on our Facebook and YouTube pages!
Sustainability in Dining
We are constantly making sustainability improvements across the board. Here's what we're doing now:
Sustainability Initiatives within Dining.
The goal is to procure foods from sustainable sources, while keeping our prices affordable. In the 2019-2020 academic year, we purchased 15% of our food from sustainable sources, including: USDA Organic, Fair Trade, Rainforest Alliance, Cage Free, Seafood Watch "Best Choices," and other third-party certified sources. Additionally, 30% of our food purchases were plant-based. 
We carry ecoGrounds Fair Trade Certified coffee and teas in all Dining facilities. For every pound of coffee sold, ecoGrounds will donate $0.15 to the on-campus Triton Food Pantry.
We have eliminated single use plastic utensils, and switched to reusable metal silverware.
Dining locations compost all pre-consumer food scraps (melon rinds, vegetable peels, coffee grounds, etc.) and leftovers (inedible foods) generated in the kitchen. Food scraps are delivered to Miramar Greenery, where it is turned into compost.
FUN FACT: In 2018-2019 we composted over 180 tons of food waste, bringing the total to over 1900 tons since 2010.
Tiny Bin Tim
Tiny Bin Tim is our post-consumer food scrap composting program. "Hungry" bins can be found in the dining rooms at 64 Degrees, Pines, Roots, OceanView, Café V, and Canyon Vista. Food scraps placed into these bins are collected by and turned into compost by Roger's Urban FarmLab through traditional composting and anaerobic digestion.
Zero Waste Events
HDH Wellness and Engagement hosts a series of wellness events each year, most notibly Wellfest in fall quarter. In 2019, Wellfest had an attendance of over 1,100, and achieved a 99.4% diversion rate with the help of the Student Sustainability Collective, Roger's Urban FarmLab, the EcoNauts, UC San Diego Catering, and many others! Future wellness events will strive for zero waste as well! 
UC San Diego Catering
Through partnerships with Facilities Management and Roger's Urban Farmlab, UC San Diego Catering expanded their zero-waste catered event offerings. During the 2019-2020 Academic Year, they hosted 54 zero-waste events, ranging from small office gatherings to large-scale campus events.
New Leaf Biofuel Program
Since 2007, all used cooking oil from our kitchens is collected by New Leaf and converted into biofuel.
Partnership with the Food Recovery Network
The Food Recovery Network coordinates with HDH's executive culinary team to pick up edible, perishable food items for donation. 3,716 pounds of food were collected and donated last year!
Hydration Locations
For an everyday solution to reducing waste, Hydration Locations are located across campus, providing free, filtered drinking water. Bring your own reusable water bottle and fill up.
Zero Waste Move-Outs
Our annual move-outs are as convenient as possible with the goal of Zero-Waste in mind. Disabled American Veteran (DAV) donation bins are placed in every college for students to donate their used items, and yellow donation bins are placed in the markets to accept leftover, non-perishable food items. All food items donated benefit the on-campus Triton Food Pantry.
In 2020, 9 tons of donations were collected for the DAV. This number is lower than normal years because there were fewer on-campus residents due to the impacts of the COVID-19 pandemic. 
Green Buildings
The majority of HDH's buildings are LEED certified for their environmentally responsible and sustainable design strategies, including energy, water and resource savings. Some of our LEED buildings include:
Platinum Certification: Keeling Apartments, North Torrey Pines Living Learning Neighborhood (future)
Gold Certification: Graduate Housing communities (Nuevo East, Nuevo West, Mesa Nueva), 64 Degrees, Sixty-Four North, Pines, John's Market, Roger's Market, Village Market, Bistro, The Village East and West, Muir College Apartments
Silver Certification: HDH Administration Building, Goody's Place and Market
Green Office Standards
HDH strives to maintain sustainable office spaces that meet the following requirements:
Double-sided printing as default
Cloud document storage
Mini trash bins
Recycling bags/bins
Reusable cups/mugs/water bottles for staff