Meet the Team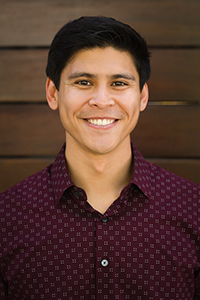 Colin
HDH Sustainability Manager
Colin joined HDH as Sustainability Manager in May 2017. An alumnus of UC San Diego and former EcoNaut, Colin brings a technical background of sustainability to HDH with a BS in Environmental Engineering, and research and project experience in energy and mechanical engineering. In addition to fostering a culture of sustainability among students and staff across campus, Colin's responsibilities include supervising the EcoNauts, identifying areas for departmental improvements, serving on sustainability committees for new building developments, and acting as an HDH liaison to campus sustainability groups, efforts, and projects.
To contact Colin, please email cmoynihan@ucsd.edu.
Christy
EcoNaut
Coming from the very well-known small town of Sebastopol, California, Christy is an environmental systems senior and a third-year Econaut. In her last year, she hopes to make a tangible increase in students' awareness in sustainable living and contribute to a more sustainable-minded atmosphere on campus. Her interest in sustainability translates to her everyday life in which she daydreams of planting a garden and exploring the outdoors. When she's not busy vlogging the lives of her fellow EcoNauts, she is at home crafting or caring for her plant babies.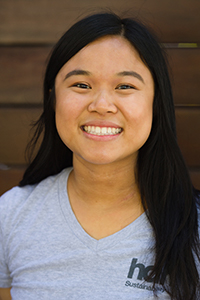 Shannon
EcoNaut
Shannon escaped from the crazy housing prices in San Francisco and is now a fourth year majoring in Environmental Policy and International Economics (Yes, our school offers these majors). She is passionate about improving the accessibility of sustainable practices and hopes to teach the campus community, as an Econaut, easy green tips and tricks. In addition to her pursuit of a more green campus, Shannon enjoys being an avid Yelper and dog spotter. If you see her around, ask her about her reusable boba cup!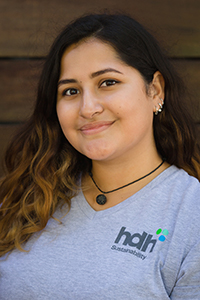 Roxy
EcoNaut
Coming out of Los Angeles, our A-List celebrity EcoNaut made her way down to San Diego as a fourth year studying Environmental Systems: Earth Science and 2nd year EcoNaut. With a love for sustainability that blossomed out of her successes in gardening, both in her home garden and on campus in Muir. As an EcoNaut, she hopes to inspire all residents to carry reusables with them wherever they go, propeling UC San Diego to our Zero Waste goal. Beware though -- Roxy's passion can pack some serious heat, evident in her super spicy salsa made from her homegrown tomatoes. When she is not in the garden, you can find Roxy reaching new heights while climbing volcanoes or road tripping to find her new favorite coffeehouse or vegetarian restaurant.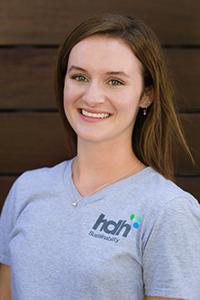 McKenna
EcoNaut
To find our EcoNaut McKenna, we took the road to El Dorado (Hills). A fourth year student and second year EcoNaut, she is studying Public Health and Environmental Studies. Motivated by her love of the outdoors and passion for promoting global environmental health, she hopes to inspire students to make sustainable lifestyle choices and do their part to protect our planet and those who live on it. Fueled by countless cups of coffee and kombucha, McKenna uses her free time to explore as many waterfalls as possible, taking pictures, practicing yoga, and dreaming of her future travels along the way.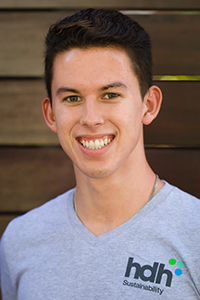 Josh
EcoNaut
Coming from the small town Beaumont near the Coachella Valley, Josh has escaped the 100 degree heat and made his way down to San Diego studying Human Biology and Global Health in hopes of pursuing a career in medicine. He also has a strong interest in living a more sustainable lifestyle, and with the EcoNauts, hopes to encourage others to practice a cleaner, more sustainable life both on and off campus. When Josh is not studying for midterms, he is exploring around San Diego and going to different concerts and music festivals that Southern California has to offer. One interesting fact: Josh is addicted to Hot Cheetos.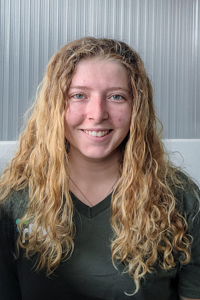 Arielle
EcoNaut
Arielle travelled the great distance of 6.5 miles from her hometown of San Diego to come to UC San Diego where she joined the EcoNauts in the hopes to help make sustainability an everyday practice for the students and staff of UCSD. Entering her second year as a Bioengineering student in Sixth college, Arielle's hobbies include camping, baking, and spending time at the beach.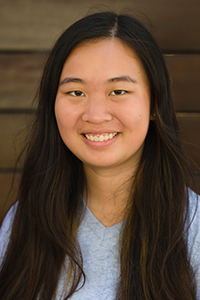 Zoe
EcoNaut
No-way, Zoe is from Poway. As a third year student studying Chemical Engineering and Psychology, she often hears "Wow, that's an interesting combination!" Zoe is super excited to live in the Keeling Apartments this year since it's one of the three LEED Platinum certified buildings on campus! You can often find her watching the sunset at the Keeling rooftop garden or walking to BJ's for $3 pizookies. She stays healthy and connected to the environment through her one and only hobby, playing Pokemon Go. Zoe really wants to get a bike to reduce those greenhouse gas emissions, but mostly in an attempt to catch more Pokemon.